Instead of publishing a new post everyday during the 12 Days of Deadpool, here is a tracker post that will be updated everyday for this promotion leading up to the release of a new trailer on December 25.
Day 1, Dec. 14:
Deadpool shows off "his piece" in new movie poster, via
EW
.
Day 2, Dec. 15:
Ryan Reynolds sits on the lap of the Santa Deadpool theater standee, GIF via
People
.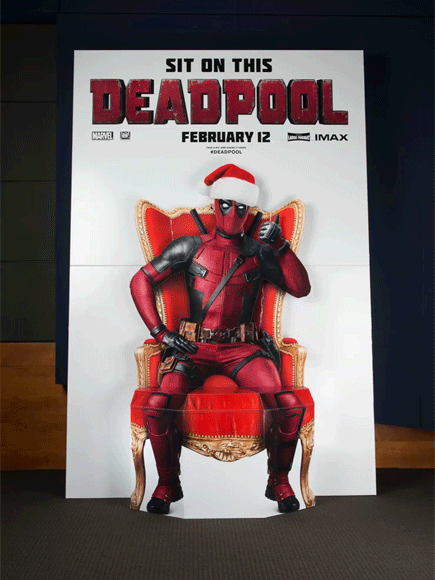 Day 3, Dec. 16:
Day 6, Dec. 19:
Deadpool shares his notes on a
DEADPOOL
script page,
via JoBlo.com
.
Day 7, Dec. 20:
A holiday letter recapping his 2015 via DeadpoolCore.com email subscribers.
Day 8, Dec. 21:
Deadpool emojis
via Mashable.com
!
Day 9, Dec. 22:
Day 10, Dec. 23:
Enjoy the "Pool Log"...
Day 11, Dec. 24:
Day 12, Dec. 25:
All ages trailer...
Red band NSFW trailer...